10 Tips To Celebrate Kids Birthday Party At Home
Want to celebrate your kids' birthday party at home without spending too much? Here are a few best tips for adhering to a budget for your next party.
1. Choose an Ideal Time:
The best time to celebrate your kids' birthday party is pre dinner, where guests (parents included) will be free from all their daily routine and can spend some time without worrying about other daily chores.
2. Start preparations early:
 Start hunting for birthday party decorations early; as it will provide you the time to compare prices across shops. Additionally, you will save yourself from forgetting things to purchase that you will eventually buy at an inflated price at the last minute. Often we advise people to look for birthday party supplies that are on sale. In Hyderabad, we have found that Balloons Unlimited tend to have decent bargains & a wide range of quality products for children's parties.
3. Digitize:
A sizable number of people still rely on paper based invitation cards for their kid's birthday celebration. Consciously, start relying on beautifully crafted digital invitations through free designing sites such as sites Canva and use WhatsApp or Email to send them across.
4. Celebrate Jointly:
If your kid's birthday happens to be around the same date as their friends' birthday, strongly consider having a joint celebration party & make it more fun & games. This works well for both you & the other child's parents as you will split the cost—and the responsibilities. Just make sure they have their own birthday cake for no other reason that everyone loves cakes & you can't have enough of it. To order cakes online & get it home delivered in Hyderabad, you can head to Ferns N Petals, Chef Bakers or Karachi Bakery. If you want a midnight cake delivery then check out  www.yumeats.in
5. Don't buy everything from birthday party supplies stores:
Though the temptation will be there to buy everything from a one-stop party shops & thus save on the effort involved in shopping, you definitely won't be economizing on the spending this way. Few items in the party stores typically are dearer than that are available in stores of big retail chains. For instance, chocolates at party stores are expensive than what you can buy from stores such as DMart or Spar.
6. Utilize your own/service providers network:
For any amusement activities, consider leveraging your individual connections and neighborhood resources. As an example, one of our partner  who are a birthday event planner got a personal friend of an employee who is a police officer to visit their client's son's birthday party in his uniform. Similarly, another client of ours, got a friend's housing society clubhouse to have a joint birthday party celebration that costed him substantially less than if he had used a function hall.
7. Celebrate your kids birthday outdoors:
For little children, you can think outside the box & can do away with a regular run of the mill birthday party. You may try making a picnic trip out of a birthday celebration that will be a welcome change for the parents of the other invited kids too and is likely to more fun-filled with interesting & innovative kids' birthday party games suited for outdoors. However, if you are not the outdoorsy type, perhaps better to stick to the regular plan.
Against the current backdrop of an expected third wave of the Covid-19 pandemic, it would be advisable to choose outdoor venues such as a farmhouse or an outdoor area of a function hall or the terrace area of your house or apartments.
8. Order your party supplies online:
Prices are not necessarily lower if you shop online, however a little time on the internet can give you a lot of ideas and potentially help avoid buying some costly supplies offline. Listed below are a few of of our favorite websites for discount birthday party decorations and supplies: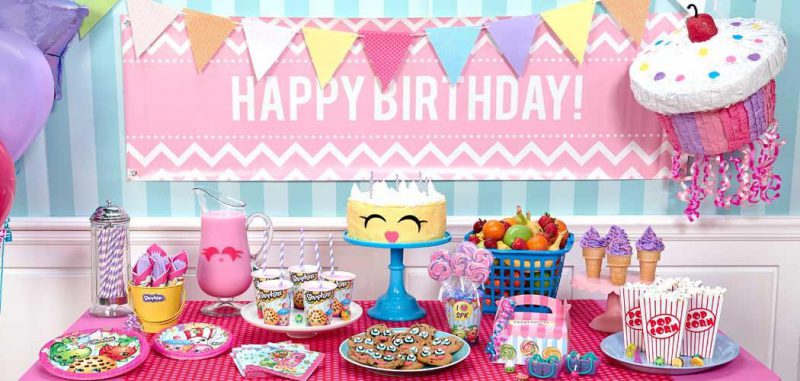 9. Put your child's imagination to work:
Make the most of your and other children's vibrant imagination. Organize party games such as a treasure hunt with a goal to collect interesting trinkets that the kids can take home as the spoils of their hunt so that they can fondly remember the fun they had at the birthday event.
Few birthday party games ideas for actively engaging the children are given below:
Three-Legged Race

Charades

Musical Chairs

Chinese Whispers

Freeze Dance

Keep-Up-the-Balloon

Hot Potato
The possibilities are endless. Just think outside the box, plan early and think ahead, look for sales and let the party begin!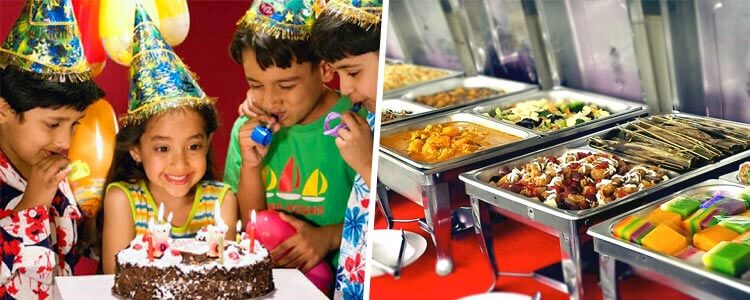 10. Hire a caterer for your celebration:
A birthday celebration is filled with guests, entertainment and gifts, and a great deal of tasty food on the dining table too. Consequently, if you're in the middle of planning a massive birthday celebration, you merely have to engage the services of a birthday celebration catering firm to prepare everything and provide a friendly & courteous service. A catering services marketplace platform such as yumEATS can in one click give you a wide variety of menu options in terms of cuisines, group sizes etc. from 130+ best & top caterers in Hyderabad. They can set up interesting live desserts counters such as waffle station, confetti ice-cream stations etc. Additionally they bring their professional catering expertise & high quality service to the table so that you can rest assured that your guests eat tasty, hygienic food.