Corporate Catering Service Cost In Hyderabad With Cost Estimation and Price List
Are you looking for corporate catering services in Hyderabad for event, team meeting, conference, seminar, product launch? Chances are you have a million things to be taken care of before you can be sure that the said event will go off well. In all likelihood, you would spend a considerable time to arrange refreshments (food & drinks)  to the guests/participants at the event is top notch & quality food.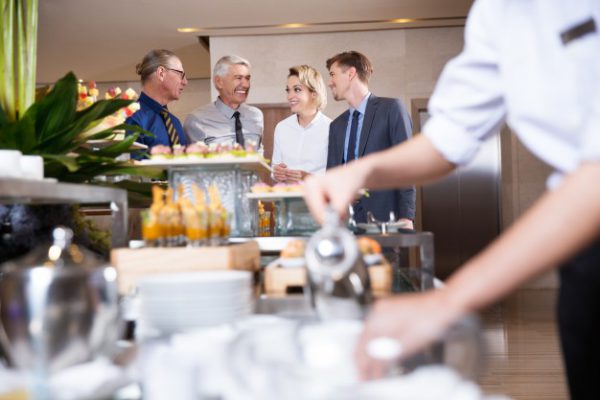 Since the event setting is a meeting room at an office or a conference/seminar hall at another venue & going to a restaurant is not convenient, you will need to find a quality and best catering service in Hyderabad that will take care of the refreshments for the guests. We are here to help you in your search for the best corporate catering services in Hyderabad with prices based on your requirement. We will cover the various types of services, cuisines offered and help you in estimating a budget.
Read on to find more, but first see below an overview of what to expect in our Corporate Catering Service guide.
How corporate caterers in Hyderabad charge for their services?
Typical per person catering prices

Types of Catering Cuisines in Hyderabad for corporate

 Cost components of a typical catering service

How to choose/hire from the best food caterers in Hyderabad?
First up, we shall cover one of the most important points; that of finding a suitable catering menu package that serves your need & fits into your budget.
A caterer typically prices his service on the basis of a per guest/person & not per hour basis. They don`t typically add any extra fees/charges unless you have a very specific, customized need that involves catering counter decorations, dining area decorations etc.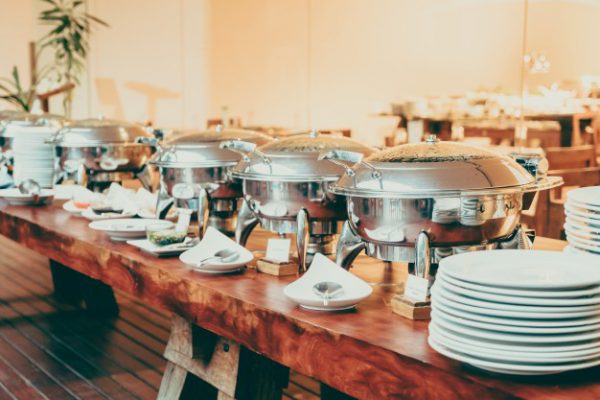 On average, corporate event catering can cost the customer between Rs. 100 (say for an office working lunch with a sandwich & a drink) and a few thousand rupees per person/guest, depending on the cuisine, the number of courses & food items, type of food items, kind of service (whether table set up  only or full service catering that includes serving at the counter, dining table, cleanup etc. ) and the size of the event.
Typical per person catering prices
Typically the price is calculated per person/guest, so the first step is to select the corporate catering menu package which meets the minimum number of guests requirements for your event. Prices vary based on the type of cuisine and the variety & spread in the package selected. A full course meal catering  (comprising of 3-7 courses) is likely to be significantly more expensive than a set menu catering (comprising of a few limited items). Similarly, while a South Indian Vegetarian menu might cost Rs.200 per person, Non-vegetarian menu would cost Rs.300 per person. Here are a few examples of how pricing varies by service when ordered through yumEATS.
| | |
| --- | --- |
| Cuisine | Cost Per Person |
| South Indian Tiffins | Starting Rs.50 per person |
| Continental Cuisine | Rs. 225 – Rs.310 per person |
| Chinese Cuisine | Rs.300 – Rs.340 per person |
| Hyderabadi | Rs.500 per person |
Types of Catering Cuisines in Hyderabad for Corporate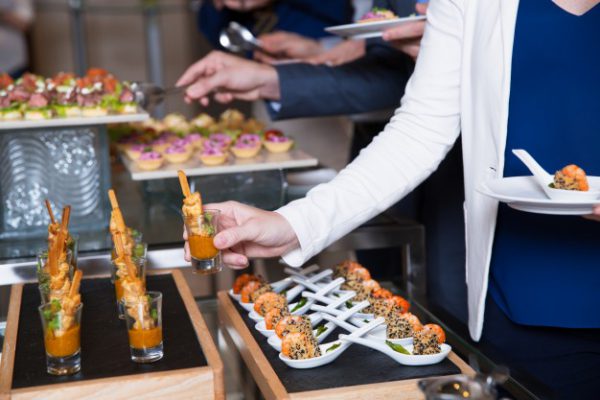 South Indian Breakfast:

Items in these menu packages include Tomato bath, Dosa, Idli, Upma, Chutney, Tea/Coffee

Cafe & Bakery cuisine:

Vegetable (or) Non-vegetable  Burger/ Dinner Roll/ Hot Dog/ Sandwich /Pizza/Pasta/Fritters/ Waffles/ Smoothies

South Indian:

Lunch menu includes various tasty dishes like Dal/Pappu, Sambhar, Vegetable fry, Vegetable curry, Salad, Non-vegetarian curry, Indian bread, Flavoured rice, Curd rice, white rice. Pickles, podi and desserts.

Hyderabadi cuisine:

These menu packages have long-standing Hyderabadi favourites such as Haleem, Kebabs, the world famous Hyderabadi Biryani & lip-smacking Hyderabadi desserts such as Double ka Meetha, Anjeer/Qubani ka Meetha etc.

Barbeque & Grill:

These menu packages include grilled meats & chicken varieties.
Cost components of a typical catering service
Timing (for e.g. an early morning breakfast service might be charged slightly higher than a regular hour breakfast), event size (typically catering services in Hyderabad offer a small discount to events that have more than 250 guests) , add-ons (such as counter decorations, dining area decorations )  and level of service (such as waiting staff for serving the guests at the table) can all impact the cost of catering.
While doing its costing, a catering service provider has to take into account the man hours & other direct expenses involved in shopping for ingredients, preparing the food, transporting food to the venue, setting up service at a venue as well as the carrying out the food service. Additionally, it has to consider the indirect costs of the business overheads, such as insurance, kitchen rent, employee costs and marketing.
How to hire a catering service?
Typically, in the course of choosing a caterer, one goes by references from people who have already used a caterer & are happy with them or in the absence of such references, one turns towards directory listings. In the case of the latter, one really has no way of establishing the quality & past track record of the caterer.
Essentially one is flying blind as the directory service provider does not do any sort of quality checks as regards the service provider & simply lists the business. Additionally, there are huge time & energy investments that are needed in this directory route in the form of choosing the best corporate caterer in a metro city like Hyderabad calling them, communicating to them regarding your need, getting options from them even to just see what's on offer. Once the first part of this process is done, then starts the part where one has to choose from the options available & then communicating the same to the caterer & then agreeing on the price.
All of this typically involves a bit of going back & forth & leaves open the possibility of misunderstanding, miscommunication even as all the while there is a time lag as well as lack of transparency thus making this directory process very time-consuming & inefficient.
An alternative to this is the online marketplace designed for catering services in Hyderabad called www.yumEATS.in who have a wide variety of corporate catering services in Hyderabad. yumEats provides customers with a hassle-free experience. We have top quality caterers in Hyderabad & well-experienced caterers on-board with a track record who have all the necessary food & government certifications that ensure food safety standards. The caterers themselves undergo a thorough Vendor Inspection Audit to ensure only the most reliable & quality caterers are on board. Additionally, all the hassles aforementioned in relation to traditional directory listing are absent because yumEATS has a very user-friendly & customizable format of the various corporate catering menus that might be needed. The pricing is transparent & there is a service quality delivery guarantee too. On yumEATS, you can even build your own menu as per your taste instead of just going by what the caterer lists in their menu packages.
So, in summary, you should make www.yumEATS.in your one stop shop for all your catering needs & focus on planning other important aspects of your event & leave the catering part to the experts. yumEATS will act as an extended arm of your office & take care of all the coordination that is required to ensure a hassle-free catering experience for your event- whether it's a big corporate conference/seminar or a small team lunch for your employees.